Wraggle Taggle Ceilidh Band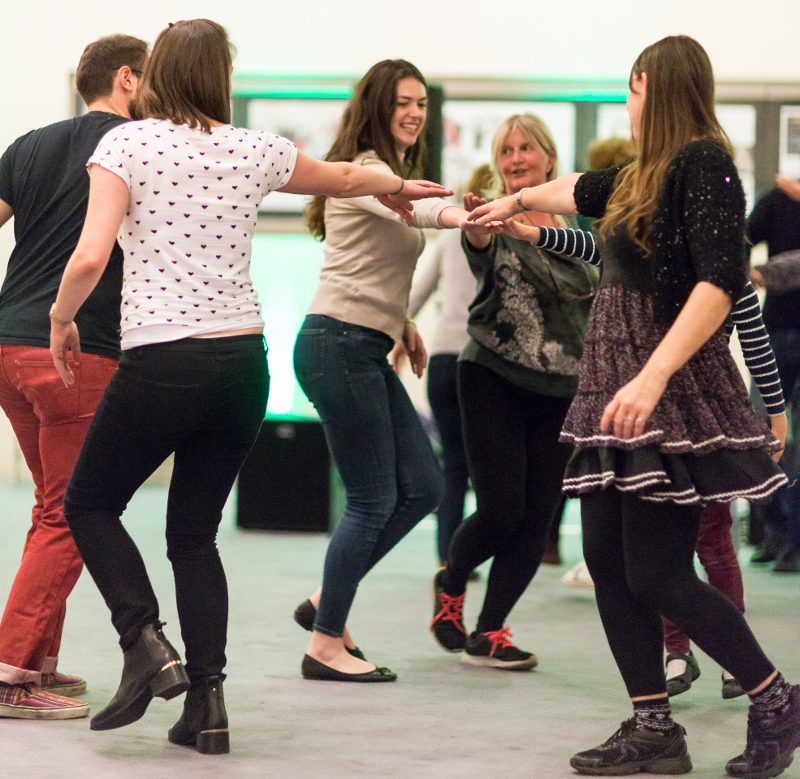 What is a Ceilidh or Barn Dance?
A ceilidh or barn dance is an evening of informal traditional dancing. Perfect for a wedding or party, it is suitable for all ages and provides a great way for people to mix and socialize. The faster dances are an energetic work out, and Wraggle Taggle also play in a more relaxed romantic mood.
Our callers teach the dances from scratch - no experience necessary! Everyone will have a good time! Mistakes are half the fun of it! Nowadays there's lots of crossover between traditions, but the dances are thought to have originated in particular countries or regions. If you prefer, Wraggle Taggle can offer dances concentrating on one style e.g. Scottish or Irish.
An Irish "ceili" suitable for dancers with less experience, would include it's own particular dances. "The Siege of Ennis" and "The Bridge of Athlone" are both very popular. Wraggle Taggle can also accompany set-dancing, a more complicated style popular in Ireland. We can even arrange a demonstration of step-dancing. Tap-dancing and Riverdance are a development of this style. The jig probably originated in Ireland.
Popular dances in a Scottish "ceilidh" include "The Gay Gordons" and "The Dashing White Sergeant." Scottish Country Dancing and "Reeling" are slightly more formal than a ceilidh. Reels probably came from Scotland. Circle dances are common in an English Barn Dance, and nowadays it's common to include dances from Ireland, Scotland and America. The Hornpipe pobably come from England. American Barn dances often include "square sets" i.e four couples facing each other. "The Virginia Reel", a popular American dance is often now used in Barn Dances and Ceilidhs in Ireland, Scotland and England.
The selection of dances at your function depends on your caller using their experience, working with the audience and going with what works best.
These are just some of the dances Wraggle Taggle have presented over the years; Barn Dance; Big Set; Bridge of Athlone; Circassian Circle; Circle dance; Circle Waltz; Cumberland reel; Cumberland Square Eights; Danish Waltz; Dashing White Sergeant; Gay Gordons; Harvesting Jig; Haymakers jig; Hokey Cokey; I Want to be near you; Longways dances; Sausage roll; Seige of Ennis; Square dance; Strip the Willow; Virginia Reel; Walls of Limerick; Waves of Tory; Plus many more Scotish, Irish and Barn Dance selections;