Wraggle Taggle Ceilidh Band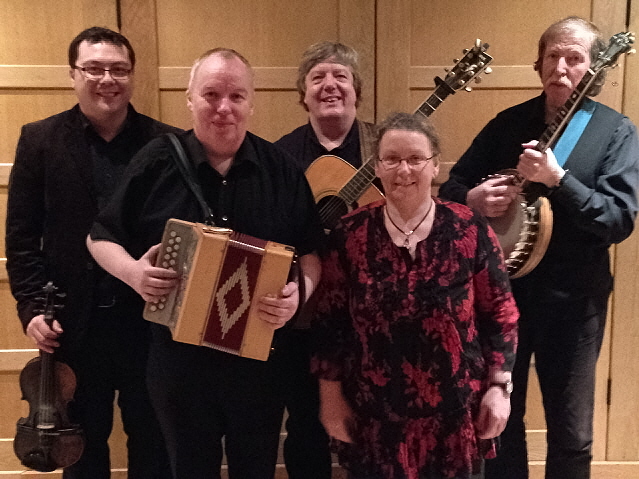 Welcome to the official Wraggle Taggle Ceilidh Band website.
Irish music, Scottish music, wedding and corporate entertainment
One of the most popular, versatile, successful and affordable traditional ceilidh bands based in London, Wraggle Taggle perform live Irish, Scottish, English and American music, dance and songs throughout south east England and beyond. They go out as anything from a duo to a six-piece amplified or acoustic, with or without a caller. Founded by Mick Bailey (Guitar/vocals) in 1998 the band has many years success including performances for Mick Jagger and Robert Smith of The Cure. Celebrities they've performed for include: Princess Beatrice, Princess Eugenie, Frank Skinner, Clive Anderson, Ian Hislop Stephen Fry, Alan Davis, Dara O'Briain, Sanjeev Bhaskhar, Meera Syal, Aimi MacDonald, Bert Weedon, Jon Snow, and Imelda Staunton.
Wraggle Taggle are regular visitors to the annual "Return to Camden Town" Festival in London and appeared at Luton St Patrick's Festival in March 2015. TV appearances include "Feilte" on TG4 and the band appeared in the Film "66" with Helena Bonham Carter and Catherine Tate. Wraggle Taggle are Resident Musicians at The Clayton Crown Hotel, London.
"Would definitely recommend"

"Excellent. Mick and the band were everything we expected and more (23rd June 2018 Saturday Mayflower Place, Tudor Way, Hertford, SG14 2DL). Easy to work with, professional and, more than anything, flexible. Loved their version of The Bare Necessities that we requested! Would definitely recommend" Forbes Mutch 15th July 2018
"Everyone was dancing"

"Amazing!!! The band was superb. (16th September 2017 Saturday Granta, 14 Newnham Rd, Cambridge CB3 9EX) The songs were performed to the highest standard, and they were FUN. Our guests had an amazing time, and by the end, everyone was dancing. At one point, the band even called a miniature impromptu ceilidh dance: we don't know who initiated this, but it was a fantastic read of the crowd, who adored it. Again, we received so many compliments on the band" Morgan & Scott Shepard 28th Sept 2017
"Such wonderful musicians"

"Hello Mick and all of the band who attended our wedding at Moreteyne Manor on 09/09/2017! (Saturday Woburn Road, Marston Moreteyne, Bedford, Bedfordshire, MK43 0NQ) What an absolutely fantastic interlude of music you gave us - we all absolutely loved it! I'm just so sorry I didn't get the chance to come and thank you personally on the day, it was a bit of a whirlwind - but I have the most beautifully vivid memories of dancing with my uncle in the lounge. Such wonderful musicians and you played a perfect array of songs for us all to enjoy. Paul heard the sea shanty and was very excited, especially when I told him that it was for him. We hope everything went ok for ye too and that you enjoyed the venue. We have had lots of people asking about you so we will be sure to pass on your name and website to them. Thanks for adding a wonderful dose of celtic magic to our special day. Lots of best wishes" Karen and Paul Savage 28th Sept 2017
"You were brilliant"

"The Mayor, Cllr Tony Virgo wanted me to pass on his thanks for your performance at his Burns Supper (10th February 2017 Friday The Stirrups Country House Hotel, Maiden's Green, Bracknell, Berkshire, RG42 6LD). He said you were brilliant and the Scottish dancing was a great success! He's a very very happy Mayor, You may also like to know that we managed to raise over £2000 for Sebastian's Action Trust which is fantastic, Best Wishes" Emma Young Mayor's Office Democratic and Registration Services Corporate Services Bracknell Forest Council 14th February 2017
"Terrific way to get everyone up"

"Dear Mick & Band, I just wanted to say a massive thank you for playing at our wedding at Magdalene College (2nd July 2016 Saturday Ramsay Hall, Magdalene College,Cambridge, CB3 0AG). Everyone really enjoyed the ceilidh and it was a terrific way to get everyone up and dancing. We had so many lovely comments from our guests on the music and dancing. Thank you for making it so fun and for making our day so special. Please do pass on our thanks to the other members of the band. Warmest regards" Fiona & Brian O'Donovan 14th Aug 2016
"Fantastic and efficient"
"Hi Mick, A huge thank you to you and the rest of Wraggle Taggle for performing at the Celts Late on Friday (9th October 2015 The Clore foyer, The British Museum Great Russell Street, London WC1B 3DG). We really appreciate you contributing to this special event and you have been fantastic and efficient to work with. The band sounded great and it was lovely to see people enjoying themselves (I managed to pop down briefly!). I will also send on the photos of the event when they reach me too.Great to meet you briefly and thank you all again for performing. All the best" Marisa Smith Acting Events Manager: Adult Programmes, British Museum 12th October 2015
"How wonderful the band was"
"Dear Mick, I didn't get to thank you in person last night at Heatherden Hall Pinewood, (25th July 2015* Saturday, Pinewood Studios, Pinewood Road, Iver Heath, Buckinghamshire, SL0 0NH) it was so hectic trying to get around to talk to guests. I just wanted to say a huge thank you for your amazing performance, we are and were so grateful that you made a wonderful party an amazing party. We had so many compliments on how wonderful the band was and everyone had such an amazing fun evening. I apologise for the overrun and you having to wait around. I do hope all the drinks and food we ordered were ok and the ushers looked after you. You were truly amazing and made the party!!! THANK YOU Best Wishes" Jane Jennet 26th July 2015
"The ceilidh went down like a storm!"
"Hi Mick, Now that we are back from honeymoon we just wanted to drop you a note to say thank you for the fantastic ceilidh you ran at our wedding (7th March 2015 Saturday Dodford Manor, Dodford, Northamptonshire, NN7 4SR) and provide some feedback, should it be of use. Firstly, the ceilidh went down like a storm! Everyone we have spoken to since returning from honeymoon has mentioned the ceilidh and stated what tremendous fun it was. Prior to the wedding many of the English side of the family and foreign friends had expressed trepidation about dancing but your explanations and calling throughout the songs had everyone on their feet joining in. Prior to the wedding you got in touch with us asking for any requests and putting our minds at ease when we panicked that we hadn't sorted a 'first dance'. On the night you coached us through an easy waltz which went down reasonably well ... even if the Groom did almost slip over on my dress! We had a fantastic experience and great evening and would definitely recommend Wraggle Taggle to our friends and will re-book you if we organise another ceilidh in the area. Kind regards" Lindsey & Douglas Hogg 6th April 2015
"The band had made the night"
"Dear Mr Bailey, Just wanted to thank the Wraggle Taggle Band for making my party such a success (28th March 2015* Saturday Parish of St Francis of Assisi, School Hall, Coronation Road, South Ascot, SL5 9HG). Everyone said how much they had enjoyed the music and that the band had made the night, so once again thank you so much, and may you and the Band have a great Easter and may you all continue to enjoy good health and happiness and be able to make people happy for many a day" Wyn Vickers 2nd April 2015
"Thank you for your professionalism and openness"
"Dear Wraggle Taggle, Just wanted to thank you for the great evening last night (29th January 2015 Thursday, NPL Sports Club, Queen's Road, Teddington, Middlesex TW11 0EB). I've spoken to a few slightly groggy colleagues this morning who all told me how much fun they had and their new-found enthusiasm for Ceilidh dancing. We all had a great time and I'd like to thank you for your professionalism and openness when organising the evening with you. Please pass our thanks on to all of Wraggle Taggle. All the best going forward - if we have another Ceilidh dance I'll be sure to get in touch. Many thanks and kindest regards" Matt Whitney, Nicky Smith and the rest of the team National Physical Laboratory 30th January 2015
"They had a great time"
"Hi Mick, Mr Smith has asked me to pass on his thanks to you for making their evening to enjoyable. They had a great time. (15th November 2014 Saturday Ghyll Manor Hotel, High Street, Rusper, Horsham, West Sussex, RH12 4PX) Many Thanks" Louise Fisher The Tour Company on behalf of Robert Smith of "The Cure" 1st December 2014
"The power of live music!"
"I just wanted to say thank you, Mick, to you and your fellow musicians for your contribution to the enjoyment of our daughter Sarah's wedding celebrations on Saturday (22nd November 2014 Saturday The Honorable Society of Grays Inn, 8 South Square, London, WC1R 5ET). As you may have gathered from the enthusiasm (and energy) of some of the younger guests, you certainly had an impact. The power of live music! I'd certainly recommend you to anyone who might ask about a similar occasion. Kind regards" Keith Jones 25th November 2014
"Incredibly talented"
"Hi Mick. We just wanted to say thank you so much for doing such an awesome job at out wedding (7th November 2014 Friday Lismoyne Hotel, 45 Church Rd, Fleet, Hampshire GU51 4NE). It was an amazing evening and so many people commented on how much they enjoyed the music and the dances. You have an excellent and very patient caller, and you are all incredibly talented musicians - we loved every minute. We will definitely be recommending Wraggle Taggle to anyone looking for a ceilidh band :-) Thanks again" Vicky Cobley and Anna Lawton 17th November 2014
"They were marvellous"
"The ceilidh was a great success (31st December 2013 Tuesday Goldsmith's College, Lewisham Way, New Cross, London SE14 6NW) the orchestra really enjoyed themselves! Please pass on my thanks to Wraggle Taggle for all they did - they were marvellous. If our residency is back at Goldsmiths next year, we'd love to have them back, but I'm afraid we don't know what we're doing until the last minute. I'll certainly be back in touch if we need a band for our Spring/Summer residencies though! Thanks again" Ben Salter, Head of Support, National Youth Orchestra 20th January 2014
"We all loved the band"
"Dear Mick, many thanks for Sunday (20th October 2013 (trio) The Provenance, 62 High Street, Colliers Wood, SW19 2BY) and being so flexible. We all loved the band and apologies for such cramped conditions. Best Wishes" The Baroness McDonagh (life peer in the House of Lords) 22nd October 2013
See more testimonials here! Top
Listen now to Wraggle Taggle!
Live Dates - info on where Wraggle Taggle are playing.
Clients include Mick Jagger and Jerry Hall, Robert Smith of The Cure, Guy Ritchie, Jackie Clune
The Baroness McDonagh and Sheila McDonagh MP, National Theatre, National Youth Orchestra, London Irish RFC and British Airways.
Celebrities we've performed for include: Princess Beatrice, Princess Eugenie, Frank Skinner, Clive Anderson, Ian Hislop
Stephen Fry, Alan Davis, Dara O'Briain, Sanjeev Bhaskhar, Meera Syal, Aimi MacDonald, Bert Weedon, Jon Snow, Imelda Staunton
Venues include Return to Camden Town Festival, London NW1, Blenheim Palace, The National Liberal Club
The Royal Festival Hall, Pinewood Studios, and HM Treasury
TV appearences "Next" on Live TV, "Feilte" on TG4, End of shoot parties: "Poirot" & "The Bill"
Film appearences "66" with Helena Bonham Carter and Catherine Tate
Resident Musicians The Clayton Crown Hotel, London NW2