Wraggle Taggle Ceilidh Band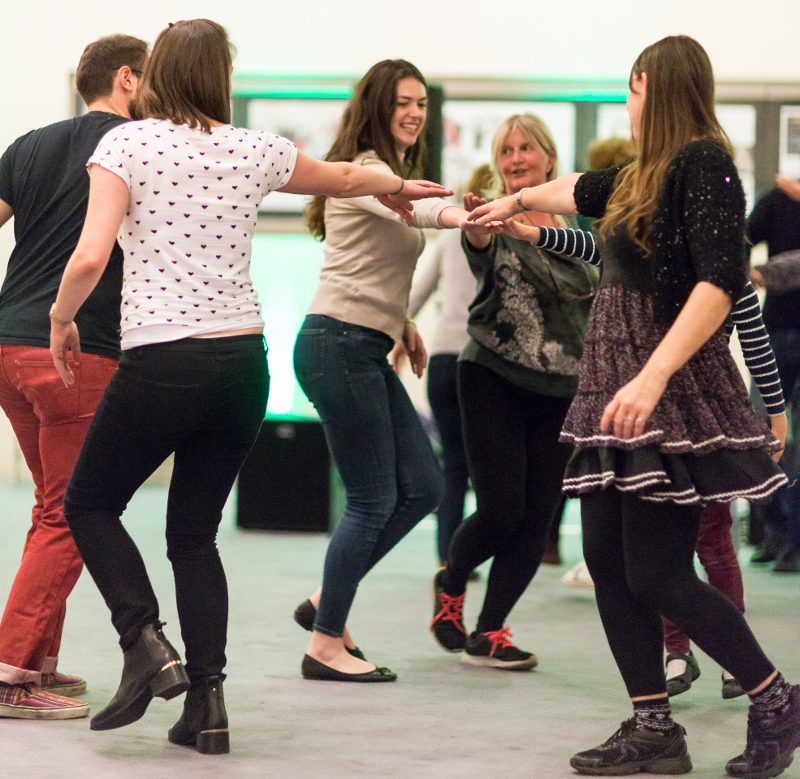 Welcome to Wraggle Taggle Irish Band website.
Irish music, wedding and corporate entertainment
Starring the exceptionally talented Mick O'Connor (Tenor Banjo) and Eugene Teevan (Accordion), both all Ireland champion musicians, Wraggle Taggle perform throughout south east England and beyond. They go out as anything from a duo to a six-piece Irish band amplified or acoustic, with or without a caller.
Mick O'Connor won the all-Ireland tenor banjo championship in 1971 and two all-Ireland ceili band medals in 1986 and 1987. After many years touring and recording, he was invited to meet Irish President Mary McAleese at a special reception for traditional Irish musicians at her official residence, Áras an Uachtaráin, in Phoenix Park, Dublin in 2004. He received a Bardic Award at the All Ireland Fleadh music festival in Derry on Tues 13 Aug 2013 in recognition of his exceptional contribution to the promotion of Ireland's cultural traditions.
Eugene Teevan was steeped in traditional Irish music and his father Jim Teevan was president of Comhaltas Ceoltoiri Eireann 2004 - 2009. He was All-Ireland Champion in 1982 and 1986 and is now a qualified music teacher with Comhaltas. Over the years Eugene has been a regular performer at Irish music festivals, conventions and sessions as well as playing with several folk and Irish bands. Eugene has also performed in America and Canada.
Mick and Eugene are joined by Mick Bailey (Guitar/vocals) who founded the band in 1998 and other guest musicians who join the band in various line-ups. The band has many years success including performances for Mick Jagger, Robert Smith of The Cure and London Irish RFC. Celebrities they've performed for include: Princess Beatrice, Princess Eugenie, Frank Skinner, Clive Anderson, Ian Hislop Stephen Fry, Alan Davis, Dara O'Briain, Sanjeev Bhaskhar, Meera Syal, Aimi MacDonald, Bert Weedon, Jon Snow, and Imelda Staunton. Wraggle Taggle are regular visitors to the annual "Return to Camden Town" Festival in London and appeared at Luton St Patrick's Festival in March 2015. TV appearances include "Feilte" on TG4 and the band appeared in the Film "66" with Helena Bonham Carter and Catherine Tate. Wraggle Taggle are Resident Musicians at well known Irish venue The Crown Moran Hotel, London
"Terrific way to get everyone up"
"Dear Mick & Band, I just wanted to say a massive thank you for playing at our wedding at Magdalene College (2nd July 2016 Saturday Ramsay Hall, Magdalene College,Cambridge, CB3 0AG). Everyone really enjoyed the ceilidh and it was a terrific way to get everyone up and dancing. We had so many lovely comments from our guests on the music and dancing. Thank you for making it so fun and for making our day so special. Please do pass on our thanks to the other members of the band. Warmest regards" Fiona & Brian O'Donovan 14th Aug 2016
"Fantastic and efficient"
"Hi Mick, A huge thank you to you and the rest of Wraggle Taggle for performing at the Celts Late on Friday (9th October 2015 The Clore foyer, The British Museum Great Russell Street, London WC1B 3DG). We really appreciate you contributing to this special event and you have been fantastic and efficient to work with. The band sounded great and it was lovely to see people enjoying themselves (I managed to pop down briefly!). I will also send on the photos of the event when they reach me too.Great to meet you briefly and thank you all again for performing. All the best" Marisa Smith Acting Events Manager: Adult Programmes, British Museum 12th October 2015
"How wonderful the band was"
"Dear Mick, I didn't get to thank you in person last night at Heatherden Hall Pinewood, (25th July 2015* Saturday, Pinewood Studios, Pinewood Road, Iver Heath, Buckinghamshire, SL0 0NH) it was so hectic trying to get around to talk to guests. I just wanted to say a huge thank you for your amazing performance, we are and were so grateful that you made a wonderful party an amazing party. We had so many compliments on how wonderful the band was and everyone had such an amazing fun evening. I apologise for the overrun and you having to wait around. I do hope all the drinks and food we ordered were ok and the ushers looked after you. You were truly amazing and made the party!!! THANK YOU Best Wishes" Jane Jennet 26th July 2015
"Over the moon"
"Dear Mick, Apologies in not emailing sooner. We are still away travelling on our honeymoon and finally getting around to emails. Thank you and the band so much for your amazing music at the wedding (13th June 2015 Saturday Trinity Buoy Wharf, 64 Orchard Place, Canning Town, London E14 0JY). The music was perfect and everyone commented on how much fun they had. Especially the ceilidh... I dont think the dance floor was big enough to accommodate everyone who wanted to join in! The Irish family really loved trying to show the English how to dance the siege of Ennis... I feel it may have been somewhat chaotic. My father was over the moon and loved it all. It was perfect! I do hope the band enjoyed themselves too. Apologies for my cousin unexpectedly joining you on stage at one point...! Best wishes" Sarah and James Madden 7th July 2015
"The band had made the night"
"Dear Mr Bailey, Just wanted to thank the Wraggle Taggle Band for making my party such a success (28th March 2015* Saturday Parish of St Francis of Assisi, School Hall, Coronation Road, South Ascot, SL5 9HG). Everyone said how much they had enjoyed the music and that the band had made the night, so once again thank you so much, and may you and the Band have a great Easter and may you all continue to enjoy good health and happiness and be able to make people happy for many a day" Wyn Vickers 2nd April 2015
"Thank you for your professionalism and openness"
"Dear Wraggle Taggle, Just wanted to thank you for the great evening last night (29th January 2015 Thursday, NPL Sports Club, Queen's Road, Teddington, Middlesex TW11 0EB). I've spoken to a few slightly groggy colleagues this morning who all told me how much fun they had and their new-found enthusiasm for Ceilidh dancing. We all had a great time and I'd like to thank you for your professionalism and openness when organising the evening with you. Please pass our thanks on to all of Wraggle Taggle. All the best going forward - if we have another Ceilidh dance I'll be sure to get in touch. Many thanks and kindest regards" Matt Whitney, Nicky Smith and the rest of the team National Physical Laboratory 30th January 2015
"They had a great time"
"Hi Mick, Mr Smith has asked me to pass on his thanks to you for making their evening to enjoyable. They had a great time. (15th November 2014 Saturday Ghyll Manor Hotel, High Street, Rusper, Horsham, West Sussex, RH12 4PX) Many Thanks" Louise Fisher The Tour Company on behalf of Robert Smith of "The Cure" 1st December 2014
"The power of live music!"
"I just wanted to say thank you, Mick, to you and your fellow musicians for your contribution to the enjoyment of our daughter Sarah's wedding celebrations on Saturday (22nd November 2014 Saturday The Honorable Society of Grays Inn, 8 South Square, London, WC1R 5ET). As you may have gathered from the enthusiasm (and energy) of some of the younger guests, you certainly had an impact. The power of live music! I'd certainly recommend you to anyone who might ask about a similar occasion. Kind regards" Keith Jones 25th November 2014
"Incredibly talented"
"Hi Mick. We just wanted to say thank you so much for doing such an awesome job at out wedding (7th November 2014 Friday Lismoyne Hotel, 45 Church Rd, Fleet, Hampshire GU51 4NE). It was an amazing evening and so many people commented on how much they enjoyed the music and the dances. You have an excellent and very patient caller, and you are all incredibly talented musicians - we loved every minute. We will definitely be recommending Wraggle Taggle to anyone looking for a ceilidh band :-) Thanks again" Vicky Cobley and Anna Lawton 17th November 2014
"They were marvellous"
"The ceilidh was a great success (31st December 2013 Tuesday Goldsmith's College, Lewisham Way, New Cross, London SE14 6NW); the orchestra really enjoyed themselves! Please pass on my thanks to Wraggle Taggle for all they did - they were marvellous. If our residency is back at Goldsmiths next year, we'd love to have them back, but I'm afraid we don't know what we're doing until the last minute. I'll certainly be back in touch if we need a band for our Spring/Summer residencies though! Thanks again" Ben Salter, Head of Support, National Youth Orchestra 20th January 2014
We all loved the band"
"Dear Mick, many thanks for Sunday (20th October 2013 (trio) The Provenance, 62 High Street, Colliers Wood, SW19 2BY) and being so flexible. We all loved the band and apologies for such cramped conditions. Best Wishes" The Baroness McDonagh (life peer in the House of Lords) 22nd October 2013
See more testimonials here! Top
Listen now to Wraggle Taggle!
Live Dates - info on where Wraggle Taggle are playing.
Clients include Mick Jagger and Jerry Hall, Robert Smith of The Cure, Guy Ritchie, Jackie Clune
The Baroness McDonagh and Sheila McDonagh MP, National Theatre, National Youth Orchestra, London Irish RFC and British Airways.
Celebrities we've performed for include: Princess Beatrice, Princess Eugenie, Frank Skinner, Clive Anderson, Ian Hislop
Stephen Fry, Alan Davis, Dara O'Briain, Sanjeev Bhaskhar, Meera Syal, Aimi MacDonald, Bert Weedon, Jon Snow, Imelda Staunton
Venues include Return to Camden Town Festival, London NW1, Blenheim Palace, The National Liberal Club
The Royal Festival Hall, Pinewood Studios, and HM Treasury
TV appearences "Next" on Live TV, "Feilte" on TG4, End of shoot parties: "Poirot" & "The Bill"
Film appearences "66" with Helena Bonham Carter and Catherine Tate
Resident Musicians The Clayton Crown Hotel, London NW2